Ma Rabu and Magic at Mosh
by Rachael Feldman, Community Engagement Coordinator at Camp Moshava
We are nearing the end of our 4th week of Mosh – and what a summer it has already been!
Our mazkirut chose Ma Rabu (how great), as our summer theme. As our Rosh Mosh, Eliza Roth, explains, "it is amazing for us all to be here together. At Mosh, we notice and wonder with amazement at the incredible joy and love that exists here."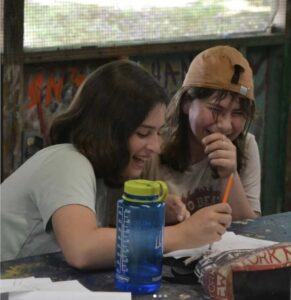 Our first session began on June 23rd. In just a few short weeks, we have seen our camp community translate Mosh magic into connection, creativity, and kahilah in amazing ways. Our chanichimot share the avodah of caring for camp and each other by cleaning the shirutim (with cheers!), toranut after meals, and collecting and chopping wood for our weekly medurah.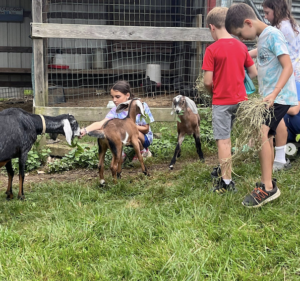 They have supported each other as Bogrimot-Amelimot and Bonimot-Nitznimot buddies. Campers have discovered new relevance of their Judaism through rikkud and other Shabbat celebrations.
Older campers have demonstrated impressive leadership skills, and have fulfilled experiences they have been waiting years for, like Bozman. The theme this year was Circus – and it really was! Campers were transported to The Bozo Circus, before being split into groups for a round robin of activities. They threw water balloons at the clowns; completed a short obstacle course made of hula hoops and mattresses; danced across the basketball court, learned a song about the day to the tune of Britney Spears' "Circus;" ate pudding to clean up "animal poop;" and played the classic circus game, Balloon Pop. As Go Orringer, one of our fabulous Bogrimot, describes, "when I was younger, I always looked forward to the day I would run Bozman. Now that I have, I can say it 100% lived up to expectations."A perennial summer highlight is tiyul, when our already de-screened chanichimot truly get back to nature. They headed to a clearing in the forest on our campgrounds, pitched their own tents (with oversight and help from the tzevet), and settled in for two days outdoorsy fun. Activities in the wild include chopping wood for the campfire; kneading, shaping, and cooking pita; hiking; swimming in Deer Creek; yoga and journaling; and connecting with nature, with each other, and with themselves.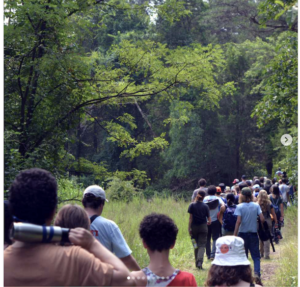 Our first Special Day of the summer focused on labor organization and unionization, through the lens of our campers' favorite movie character – a hat tip to the Writers' Guild and, now, SAG-AFTRA strikes. As Dove Begleiter, our Communications Specialist shares, "chanichimot were woken this morning by Spider-Man and Yoda, and gathered after breakfast to explore Habowood, our own version of Hollywood. Some of their favorite characters joined them, and they had a great time playing games all together. But after experiencing the realities in the writers' room that made these stories possible, the chanichimot decided to form a union and seek better working conditions. They learned about picket lines, collective action, and the challenges that workers face when forming unions. Through self-selected activities, campers were able to discuss the writers' strike, teachers' strikes in Israel, the Amazon labor union, and graduate student strikes across the US."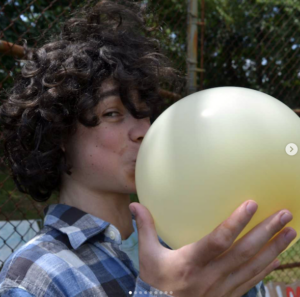 As our first camp session comes to an end, we are confident our campers have made memories together that will sustain them until they return in Summer 2024. Our tzevet have created innovative activities for second session. When our new campers pull into Mosh on July 24th, more magic awaits!
All About Chuggim (Electives) at Camp Gilboa
from the Gilboa Blog
The main choice block of the day is called chuggim (electives), where kids pick one chug (elective) to attend for the entire session. This is an excellent time for chanichimot (campers) to get to know kids in different age groups while connecting over a shared interest! Our madrichimot (counselors) always go above and beyond in creativity to provide chanichimot (campers) with fresh and fun options each session.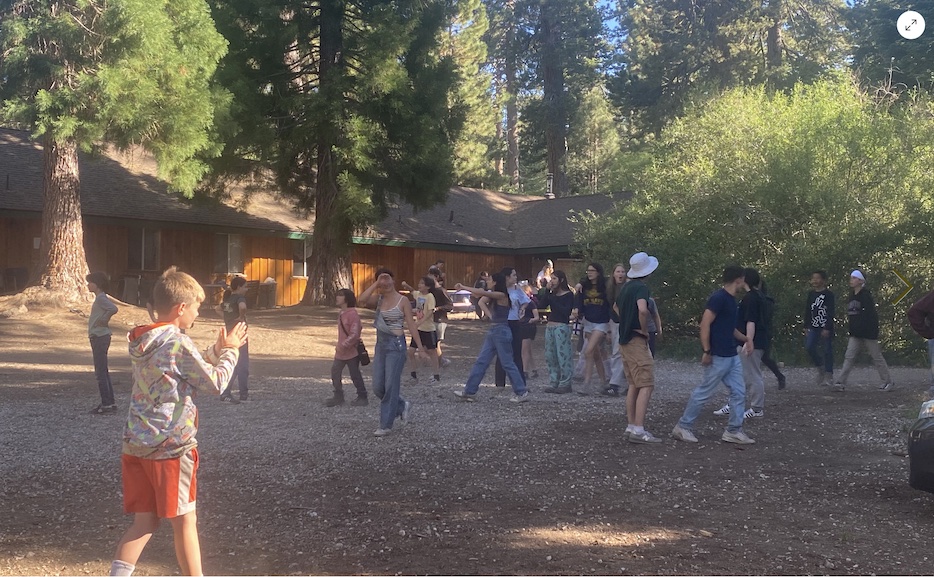 Here are this session's chuggim:
Chug Sensory: An exploratory adventure journeying through the senses !

Noah's Art: Chanichimot create art with objects found in nature! Pinecones and rocks…the natural world around us makes for an excellent canvas 🙂
Chug Copy Cat: This crew 'copycats' every other chug by each day pretending to be a different chug! They get a little taste of everything.
Aussie: The Australian madrichimot (counselors) show chanichimot all of the best food, sights, phrases, and animals from Australia.
Origins: How did the world begin?! Chanichimot explore this question and more…like how did Gilboa start? How does anything originate?!
2 Hot 2 Handle: An elective that explores activities having to do with temperature. Think: trying new hot sauce, cold plunges, and more.
Top Gun: A chug dedicated to recreating the classic film Top Gun with chanichimot!
Travel to Buratia: This group of witches travels through Russia on an epic adventure!
Protesting Israel's Judicial Reform at Camp Galil
Like protesters in Israel and around the world, Galil chanichimot took to the "streets" to protest the Israeli government's reforms.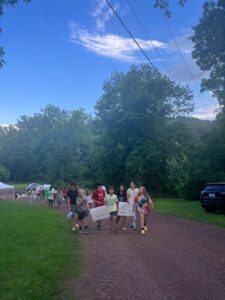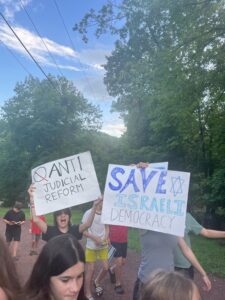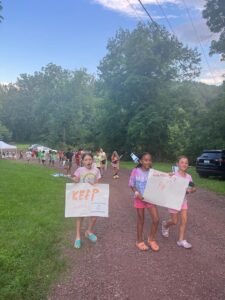 by Ben Markbreiter, Rakazol Tochniot
MBI 2023 is taking place from June 29 to July 27. There are 74 chanichimot from all 6 machanot attending MBI this summer. They started in the desert and moved their way up north, visiting Jerusalem, Tel Aviv, and the Galil, hitting the classic spots such as Masada, the Dead Sea, the Western Wall, and the Kinneret. They also had some unique experiences, like seeing a concert by Eurovision winner Netta, spending a day with Arab-Israeli teens from Hanoar Haoved, and including Israeli teens on the trip for a week. All the while, they had peulot every day regarding the current situation in Israel and their connection to the land as North American Jews.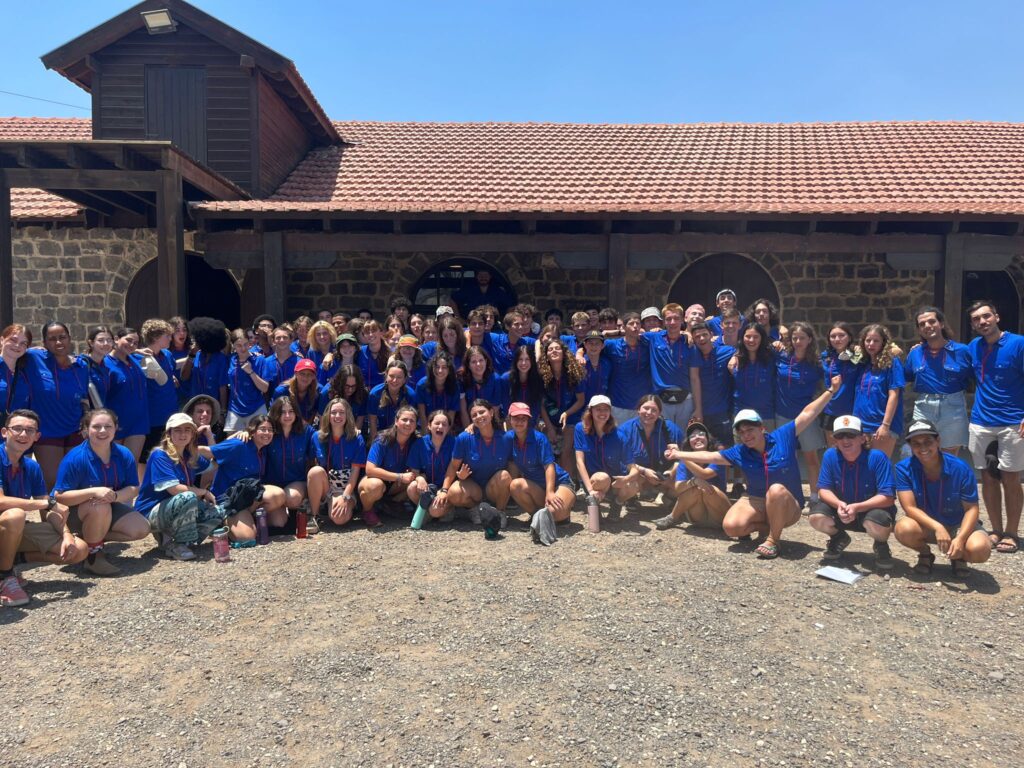 Habonim Dror members advocate for progressive Zionism, against "judicial reform"
In April 2023 two members of the HDNA family – David Weiss, Executive Director of Camp Galil, and Alisa Belinkoff Katz, co-chair of HDCA – traveled to Jerusalem as delegates to the World Zionist Congress, known as "the parliament of the Jewish people."  David and Alisa represented the HATIKVAH: Progressive Israel slate along with Leah Schwartz, a recent Olah (immigrant to Israel) and former HDNA Mazkirol, and with leaders from Ameinu and other progressive Zionist groups.
The Congress was a huge success for the cause of progressive Zionism!  We passed all of the resolutions proposed by the center-left coalition, including:
Opposition to Netanyahu's "judicial reform"
Support for conversion to Judaism through all religious streams (not just Orthodox conversions)
A commitment to uphold the values of Israel's Declaration of Independence – social and political equality for all of Israel's citizens
Inclusion of LGBTQ+ and female voices in the activities of the World Zionist Organization; and
We also defeated right-wing resolutions, including one that sought to amend the Law of Return to exclude many in our community from Israeli citizenship.
During the Congress, we organized a march of 250 delegates to the Supreme Court building where we demonstrated against the judicial reform.  Here's a photo from Ha'aretz depicting our group getting ready to march, with both Alisa and David clearly visible in the front row: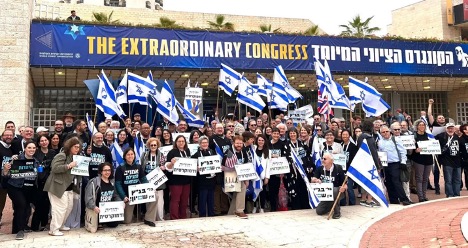 We were joined at the Supreme Court building by several HDNA Workshoppers and "Shnatties" from other countries, very identifiable in their HD chultzot ("Shnatties" are participants in year-long Israel programs, analogous to Workshop).  Leah Schwartz is visible on the far right: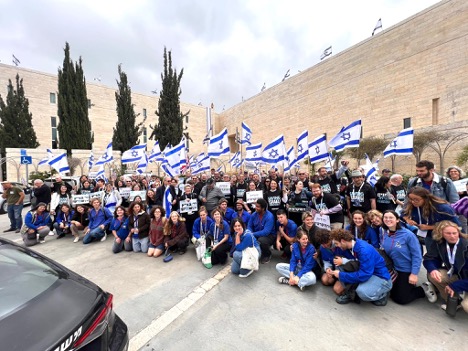 Ha'aretz summed up the results of the Congress this way (5/24/2023):  "The World Zionist Congress, in a powerful statement, voted [in May] against the religious-right agenda of Israel's current government.  In effect, the so-called 'parliament of the Jewish people' declared that Diaspora Jews do not support key policies being promoted by the Jewish state, under the most right-wing and religious government in its history."
Leading As My Authentic Self 
by Erica Kushner, HDNA Mazkirol 
We are so proud of Erica for writing this beautiful piece for the Women of Reform Judaism blog. Please click on the image below to read the entire article.
Kol hav