HDNA Joins Protests Over Judicial Reform in Israel
As the threats to democracy in Israel continue, HDNA maapilimot in North America, HDNA alumni in Israel and HDNA Workshop 72 chanichimot all came out to make their voices heard.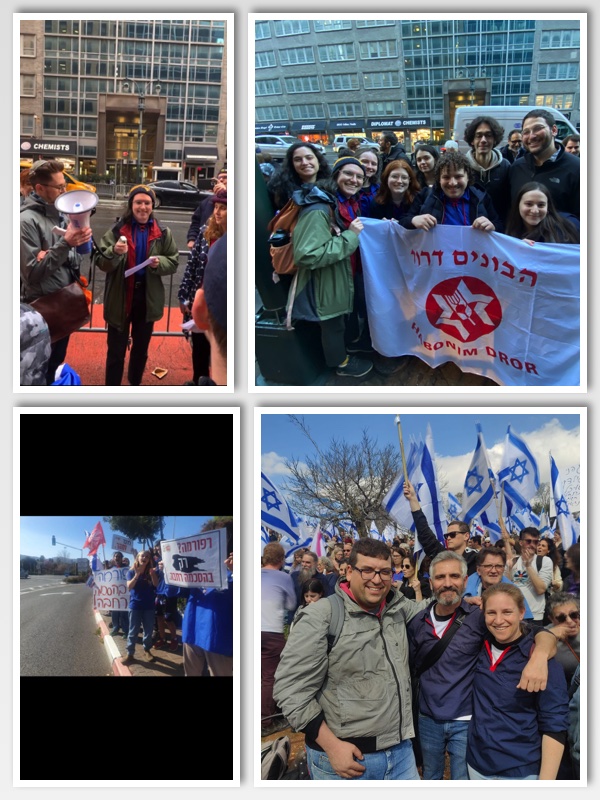 Erica Kushner, HDNA Mazkirol, spoke at protests in DC and NYC.
Reflection on How Israelis and Americans Protest
By Erica Kushner, Mazkirol HDNA and member of Garin Tzur 
Over the past four months, Jews all over the world have been watching Israel and the process of judicial reforms. We in HDNA have been no exception. Since attending my first protest in January in Israel, I have attended and spoken at protests in DC and NYC. As we are based in Philadelphia, we are working to get the Philly area movement members more involved in the weekly protests happening in our city. The Workshoppers have been attending some of the protests in Israel and gaining a lot of hands-on experience with Israeli democracy. Over the past two weeks, we have hosted online events for Maapilimot and Nachshonimot to learn about what has been going on and give them space to process with their peers. It has been an interesting experience, to be a part of these protests and I've been thinking about how activism looks in Israel as compared to in the US:
While my Mazkirut was on Seminar Yeud Emtza in Tel Aviv in January, we attended one of the first few protests in Tel Aviv. As someone who doesn't speak Hebrew fluently, most of the speeches and signs were lost on me, but even beyond that, I didn't understand how there could be so many people carrying an Israeli flag. It was a little shocking to me. I have never gone to a progressive American protest and seen American flags. In general, I have grown up associating a nation's flag at a protest with a sign of more conservative nationalistic views about what a country should or shouldn't be. Back in the US, I have since attended two more protests (and aim to start attending the weekly protests happening in Philly). Again, at both of these protests, Israeli flags swim above the crowd, waving as people speak about politicians who abuse their power, about occupation, and, of course, about the judicial reforms. I have continued to be surprised by what the flag represents to Israelis: a place of which they can make demands, a place they are willing to fight for, a place that they are unwilling to turn their back on.
In America, the left-wing social justice activism that surrounded me as I grew up is heavily based on fighting the system, taking down what exists, constantly questioning any and all leadership. Put simply, it is destructive activism. I believe that there are many things about America that are deeply, deeply flawed, things that cannot be changed from the outside and do need to be destroyed and built into something different.  However, in that work I so often feel that the vision is lacking, the connection to the place that you are doing this for is missing. Social justice in America commonly can be boiled down to "this nation is rotten to the core and there is nothing worth saving." The leftwing of America doesn't care about keeping the country. This is incredibly different from the messages I have seen coming out of Israel: that they are protesting because they care so deeply about their country, that they believe it can be better, that they will show up even when it seems things are only getting worse. This is what the Israeli flag symbolizes to me: a belief and conviction that you have the right to demand more of the land you call home, that the home of the Jewish people is not just a place to merely inhabit, but one that its people must continuously build.